OBF '22 presales open, volunteers needed, and more!
After a two-year hiatus, the world-renowned Oregon Brewers Festival is reclaiming its place at Tom McCall Waterfront Park for its 33rd year. The 2022 festival will run from Thursday, July 28 through Saturday, July 30, in downtown Portland.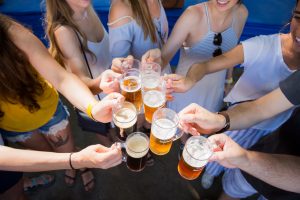 The festival will feature 40 beers from 40 Oregon brewers, with 80% of the beers either exclusive to the festival, or making their debut there. Two Oregon ciders will join the lineup, and Crater Lake Root Beer will be on hand for designated drivers and non-drinkers. 
As always, the 2022 Oregon Brewers Festival will offer a wide variety of beer styles, and attendees will have the opportunity to choose from a wide variety of brews to include Belgians, goses, hazy IPAs, pilsners, saisons, pale ales, sours, fruit beers and more. The list of participating breweries includes larger, established operations as well as some of Oregon's newest brewers. The complete brewery and cidery participant list is available online.
34 years ago,, in 1988, there were just seven craft breweries in Oregon, and only 199 in the United States. All were invited to take part in the inaugural Oregon Brewers Festival, a two-day event billed as "the first gathering and exhibit of independent brewers in the United States." Today, there are more than 9,000 craft brewers in the US, with over 300 of them in Oregon, according to the Brewers Association.
Prior to the COVID-19 pandemic, Portland – aka "Beervana" – was considered the #1 large metro area for beer tourism, according to Travelocity's Beer Tourism Index. The Oregon Brewers Festival has repeatedly been named among the top beer festivals in the United States, attracting tens of thousands of visitors from outside of Oregon, including international tourists.
The Oregon Brewers Festival is not a ticketed event, and it is free to enter the festival grounds. In order to taste beer, the purchase of a 12 oz. souvenir tasting mug from the current year is required, which costs $10. Beer is purchased with tickets, which cost $2 apiece. Patrons exchange three tickets for a full mug of beer, or one ticket for a taste. Tickets and mugs may be purchased in advance or at the gate. The event will accept major credit cards, debit cards and cash, and an ATM will be available on site. The wooden tokens from past years are being replaced by paper drink tickets this year. Wooden tokens from previous years may be swapped one-for-one with drink tickets at this year's festival. 
This festival depends on hundreds of volunteers to operate successfully, and each volunteer receives a festival t-shirt, mug and drink tickets. Volunteers may sign up at oregonbrewfest.com/volunteer.
The Oregon Brewers Festival encourages responsible drinking and urges patrons to take Tri-Met; the MAX Light Rail has a station one block from the main festival entrance. Alternately, attendees who ride their bikes can park them for free in the Hopworks Urban Brewery secure bike corral. For those who bring a designated driver, the Crater Lake Soda Garden provides complimentary handcrafted soda (no mug purchase required). Minors, who are allowed into the event all hours when accompanied by a parent, also receive free Crater Lake Soda. Additional event sponsors Travel Portland, Travel Oregon, the City of Portland and Great Western Malting.
Gates open at 11:30am daily, and taps are open from Noon to 9pm Thursday through Saturday. For more information visit OregonBrewFest.com or follow on Facebook and Instagram.